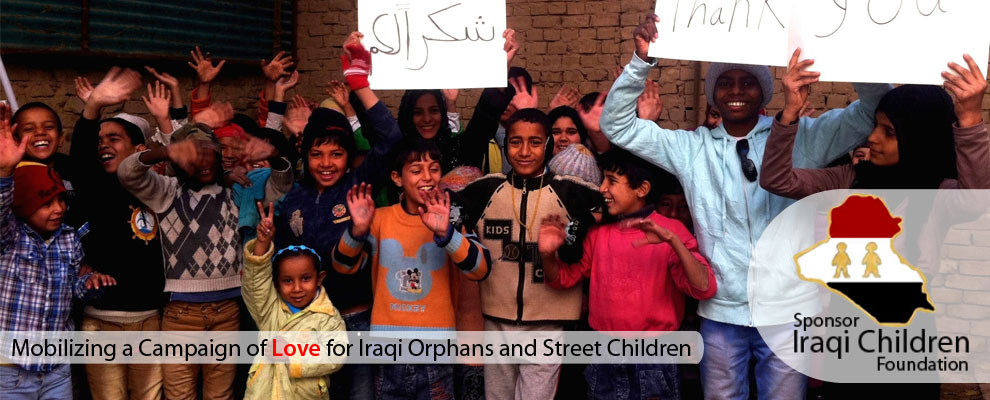 Sectarian violence and terrorism in Iraq has taken a devastating toll on hundreds of thousands of Iraqi orphans and street children.
To care for these extremely vulnerable kids, SICF supports direct services of healthy food, tutoring, play, and loving care for emotional needs.
SICF is invested in training Iraqi adults with tools to address trauma and PTSD in orphans and delivered one ton of school supplies, stuffed animals and clothes for Iraqi orphans.
Sponsor an Iraqi orphan or street child for six months
SICF began its work as a humanitarian assistance organization, offering concerned Americans as well as Iraqis an opportunity to take concrete action to help orphans. Mobilized by SICF, caring Americans in the United States, at the US Embassy, and other organizations helped collect and distribute food, medicine, school supplies, backpacks, shoes, and other humanitarian supplies.
In 2009, SICF was officially granted 501(c)(3) tax exempt status by the IRS.
Since 2009, SICF has launched several initiatives to help orphans and street children, including:
–Cosponsored a conference on orphans in Baghdad
–Developed, with the Children's Village of New York, a "Community Care Worker" (CCW) training program to equip Iraqis to care for orphans with trauma and PTSD
–Provided monthly support for a year to orphans living in the City Dump
–Mobilized a "Surge of Love" flight, with FedEx support, to deliver a ton of school supplies, stuffed animals, and clothes from American donors to orphans in Iraq
–Rescued a Street Children Center after donor funding ran out and reopened it so 50 street kids and orphans can get tutoring, meals, recreation and compassionate care.
Your contribution will go towards the $720 needed to sponsor a child for six months.
See the impact of your donation on the actual recipient
Angie
and 5 others gave six months of sponsorship for an Iraqi Child
Marwa is in a safe place
Dear Linda, Michael, Carl, Angie, Marjorie, and Reagan, Marwa is seven year old and lives with her widowed mother and four sisters in a very poor area. After Marwa's father died, they no longer had a breadwinner and her widowed mother is unable to work on an ongoing basis because of ...
read more
Community steps up to support selfless, hardworking child
Emerging from neglect and isolation
Abdullah has a chance to reclaim his childhood
Amer has the support to become social again
Caring adults work together to keep Husain safe
Raghad can recover her lost childhood
Salma is finally out of the streets
Kawther finally receives schooling
A glimpse of hope for Ali
Mona has a smile on her face again
A caring community saved Jaafer from exploitation
Abass finally receives an education
Jasim is no longer exposed to the terrors of the streets
Tell us why you this cause!