$4,220 from 19 donors
$15,000 goal
Make a Difference - While We Can
After 10 devastating years of war in Iraq, bombings and killing are on the rise again. According to EPIC, Iraqis are facing the worst violence since 2007. Hundreds of thousands of children are orphans. Many families have fled their homes and now live in desperately poor neighborhoods. Some children have dropped out of school while others work on the streets to support widowed mothers. Too many are suffering from abuse and trauma. Because these children are growing up fast, the window of opportunity to make a difference in their lives is short.
While we can, ICF is providing these – the most vulnerable of Iraq's children – with a safe place to go during the day, an opportunity to learn, eat healthy food, play, and experience the warmth of loving care and hope. All of this is accomplished through our wonderful Iraqi partners. Please give $100 to help support a child for a month, or give 2 or 3 months or – even better – a full year. LET'S MAKE A DIFFERENCE – WHILE WE CAN
Our mission is to assist the people of Iraq by mobilizing a life-changing campaign of love for millions of children orphaned by violence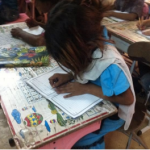 The Iraqi Children Foundation is a US-based non-sectarian tax-exempt 501(c)(3) charity (26-1394773) founded by two Americans who worked in Baghdad during the war. ICF is proud to support a center for orphans and street children, and to partner with the award-winning Children's Village of New York to train Iraqi social workers with skills to address trauma in children. Among its other projects, ICF also mobilized an airlift of more than a ton of school supplies and toys for orphans.